My husband and I decided to join a gym while we're living in Buenos Aires. I thought I could do without, by jogging outside & doing circuits on our outdoor balcony. Uh, not going to happen. The staggering heat, clouds of diesel fumes from hundreds of buses, and streets filled with pedestrians make it a less than ideal option.
We started at Magic Center Gym last week, and it's been great so far. The gym could use a face-lift, but it has everything I need for a good workout: lots of treadmills, weight machines, free-weights, and spinning classes. They could install a few water coolers (I've never been to a gym that doesn't provide water!), but beggars can't be choosers.
On Thursday I built up the courage to try the 9am spinning class with Ariel (who I thought would be female). This was an experience. One of the things I've learned is that in South America no one is ever on time, so I'm not sure why I thought exercise classes would be any different. Ariel (a big, buff man) showed up at 9:15am with a loud "Hola chicas!" and proceeded to walk around the room kissing all the girls (including me). I gave him my classic line: "No hablo espanol" and it turned out he spoke a bit of English. Bonus! As the Latin house beats started to blast; my strategy was to pretend I understood what he was saying, and just follow the other girls in the class. I thought I was doing a good job, but he had a lot of corrections for me throughout. He also didn't get on his bike once, not once. He walked around the room the whole time yelling "rapido chicas, rapido!" Despite all that, it was a great workout, and a unique experience. I'll definitely try one of Ariel's classes again.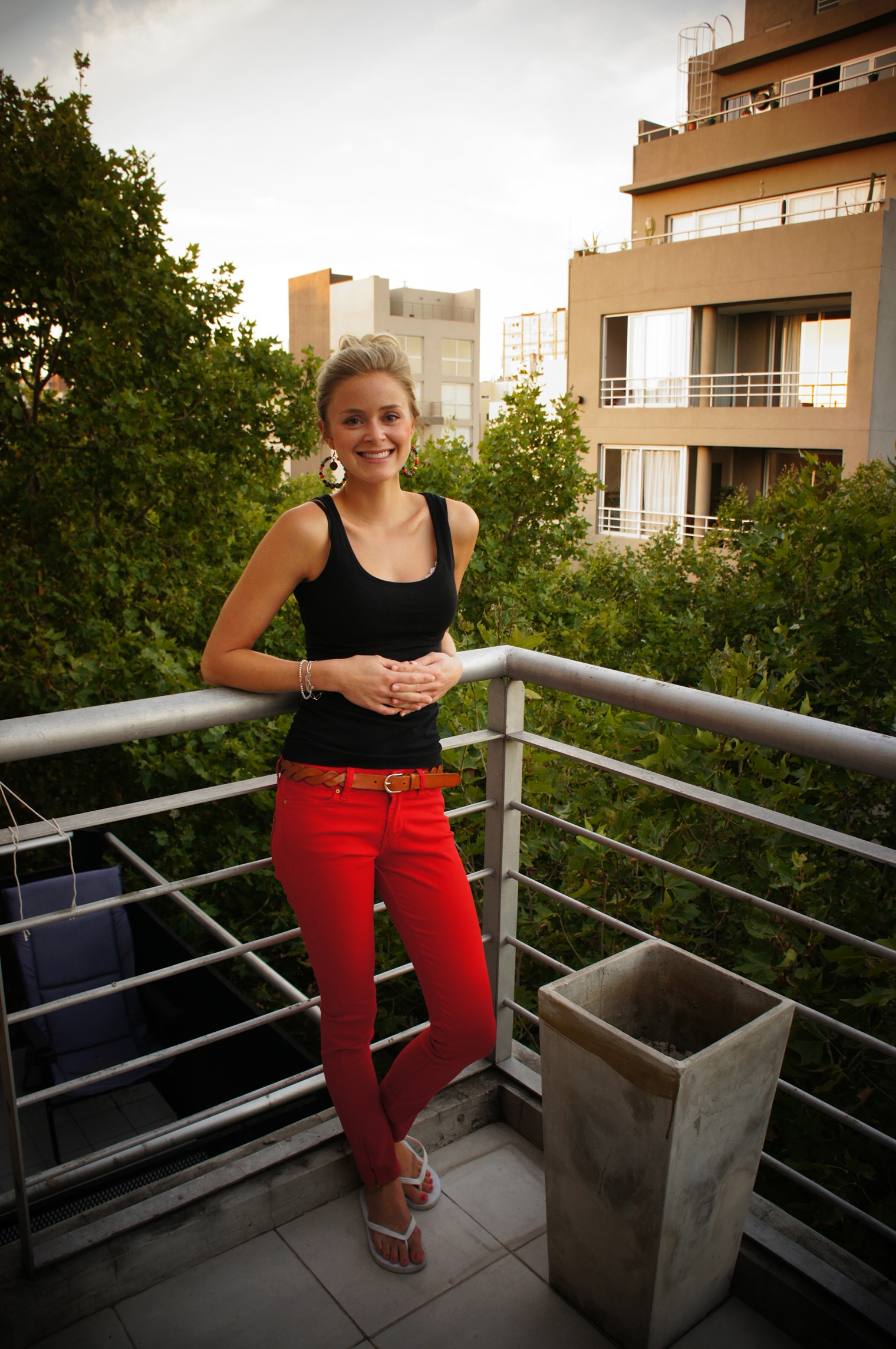 Before I go I have a little quiz for you. I just finished my Organic Chemistry course, and in one of the sections I learned all about protein. What do you think are the top 3 best quality protein sources for you? I'll provide the answers in my next post.
Adios!
(This is a picture of me on our apartment balcony in Buenos Aires on Saturday night. We have a big charcoal bbq so we grilled up some chicken & red pepper and I roasted some butternut squash in the oven. We ate outside and paired our meal with some Argentinian wine of course)
If you have any questions, please email me at laur1982@gmail.com