In the Garden
By Julianne Labreche
Cuddle up this winter with the best books to inspire a colourful spring
When the garden is fast asleep in winter, there's nothing better than curling up indoors with a nice cup of hot tea and a great gardening book.
Great gardening books inspire and guide readers to discover new ideas, including learning more about the natural world. By the last page, you may think about
gardening differently.
Here are a few books to inspire — some new, some old, including an old classic. Who knows? After reading, they may motivate you to explore a wild space or public garden — or even take a new look at your own garden space.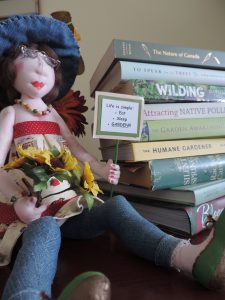 Bringing Nature Home: How You Can Sustain Wildlife with Native Plants
By Douglas W. Tallamy, Timber Press, 2019
Tallamy writes how many bird, butterfly and insect species are dwindling; however, there is hope as North Americans reshape their outside space by using
more native plants and reducing their use of turf grass. Feeding birds moves beyond the bird feeder to include gardens full of fruits, seeds, nesting space and juicy caterpillars for nestlings.
To Speak for the Trees
By Diana Beresford-Kroeger, Random House Canada, 2019
This local author, a respected botanist and medical biochemist, spent her early years in Ireland where she learned many ancient Celtic legends and stories about
the forest.
In recounting her often troubled youth, Beresford-Kroeger also provides her readers with a better appreciation of trees, including ways that forests can help curb global climate change.
When readers have finished reading her story, many will be inspired to plant more trees, especially native trees, and will gain a better appreciation of Canada's wild spaces.
Wilding
By Isabella Tree, Picador, 2018
Set in England, this true story tells the fascinating tale of returning a large agricultural tract of land back into wild habitat in order to foster biodiversity and to protect native plants and animal species. Beautifully written and thoroughly researched, it is a book that inspires hope that rare and endangered species can be protected and preserved for future generations.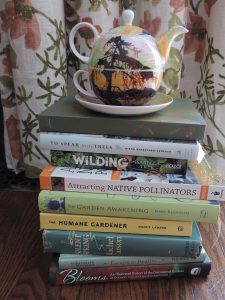 Attracting Native Pollinators: Protecting North America's Bees and Butterflies
The Xerces Society, Storey Publishing, 2011
The Xerces Society is a non-profit conservation organization devoted to protecting North American native pollinators. At a time when our native pollinators — bees, butterflies, moths, flies and other insects — are facing multiple challenges, this book details ways to protect them, no matter whether you live in the city or the country.
The Garden Awakening
Mary Reynolds, Green Books, 2016
If you saw the movie Dare to Be Wild, you'll remember the story of Mary Reynolds, an Irish garden and landscape designer. She was the youngest contestant to win a gold medal at the Royal Horticultural Society's Chelsea Flower Show in London.
Although this may not be a practical book for local gardeners, it is a deeply stirring and beautiful book that examines garden design on many levels.
The Humane Gardener: Nurturing a Backyard Habitat for Wildlife
By Nancy Lawson, Princeton Architectural Press, 2017
The opinions of gardeners are often divided about wildlife. Some see wildlife species as allies; others see them as adversaries. Nancy Lawson, an author and naturalist, provides compelling advice and wisdom on ways to reshape our gardens to include wildlife as well as plants. She profiles several gardeners in different parts of North America who are growing natural gardens with welcoming spaces for various species.
Blooms: An Illustrated History of the Ornamental Gardens at Ottawa's Central Experimental Farm
By Richard Hinchcliff, Sanderling Press, 2016
This beautifully illustrated book tells the story of the Ornamental Gardens of the Central Experimental Farm. Readers are sure to gain a better appreciation of this Ottawa landmark. The author, Richard Hinchcliff, is a thorough and meticulous researcher who carefully examines the people, plants and politics that have shaped this national public space since its beginnings in 1886.It is an ideal book to share with visitors wanting to learn more about the National Capital Region.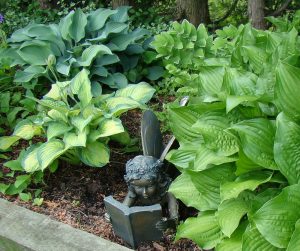 Escape to Reality
By Mark Cullen and Ben Cullen, Nimbus Publishing Limited, 2018
Unlike many of Mark Cullen's gardening books, this one, written with his son, Ben, explores the many ways that gardening is changing in Canada. It is not so much a 'how to' text, but a book about big ideas. Chapters are devoted to topics such as pollinators, local food, organic gardening, urban growth and climate change. It's an easy read that offers a new vision for gardeners.
Silent Spring
By Rachel Carson, Houghton Mifflin Company, 1962
This classic, with its multiple re-printings, helped to launch the environmental movement in North America, alerting readers that manmade chemicals were having a profound impact on the world of nature. The book created a wave of publicity that eventually led to a nationwide ban on DDT for agricultural purposes.
Julianne Labreche is a member of the Master Gardeners of Ottawa-Carleton and freelance writer.
NOTE TO READERS: SOME OF THE ACTIVITIES LISTED IN THIS COLUMN MAY BE CANCELLED OR CHANGED DUE TO COVID-19.CHECKTHE MGOCWEBSITETO CONFIRM.
Good garden advice
Great gardening books can inspire and enlighten but there are other ways to learn too. It's useful to speak to experienced local gardeners, people who are knowledgeable about growing conditions around Ottawa and what plants that grow best here.
One source of reliable advice is the Master Gardeners of Ottawa-Carleton (MGOC), an organization of volunteers with considerable gardening expertise. There are many ways to connect with MGOC if you're looking for local gardening advice:
Ask a question using the MGOC email Helpline — This is a free, popular on-line resource for gardeners. Anyone can email a garden question or concern. Master Gardeners help to identify plants, make plant suggestions and offer advice about plant diseases and pests. You can expect a reply to your question within 48 hours. To contact the MGOC Helpline, email mgoc_helpline@yahoo.ca
Speak directly to a Master Gardener — Many local farmer markets have tables staffed by MGOC volunteers who would be happy to answer your gardening questions. This is also a free, community service.
Check out the MGOC website — Here you'll find a wide variety of fact sheets to download, including: a vegetable calendar, information about plant diseases and pests, information about small fruit trees and many other topics. Gardeners can access this information by going to mgottawa.ca.
Sign-up for the MGOC newsletter — Contents include locally written gardening articles by Master Gardeners, along with gardening news and advice for the Ottawa Carleton and Lanark regions. To sign up, just go to the MGOC website.
Attend a Master Gardener talk — Every year, MGOC collaborates with the Friends of the Central Experimental Farm to host the Master Gardener Lecture Series. Dates are posted in the MGOC newsletter and on the website. These are lively, informative talks that provide lots of good local gardening advice.